By Jordan Roy-Byrne
Resource Investor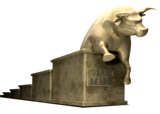 While gold has seen a decent rebound, silver and the mining shares (the more speculative side of the complex) have failed to sustain any rebound despite tremendously supportive sentiment amid an extreme oversold condition. Is the failure to rebound bearish? Not really.
This is a sector that is completely sold out but there are yet to be enough buyers to generate a sustained rebound. The combination of strength in conventional asset classes (stocks and bonds) and poor performance over the past two years is causing this sector to read like the heart rate monitor of a heart patient. The sellers are gone and the buyers are scant. We believe the bottom is in and a rebound should begin very soon. However, we are more concerned with what will be the driving force for a sustainable rebound that will evolve into a new cyclical bull market.
Clearly, precious metals won't sustain a rebound until the S&P 500 completes its cyclical bull market. This is something we've pointed out since late last year. That being said, never did we expect the equity market to climb this high. Since summer 2011, the gold stocks are down more than 50% while the S&P is up 45%. Meanwhile, the Goldman Sachs Precious Metals Index is down 25%. When stocks and bonds rise, there is no reason for the majority to consider alternatives such as precious metals.