Dudley Pierce Baker
Email Me
I am the founder and editor of Junior Mining News and Common Stock Warrants and a 1967 graduate of St. Mary's University in San Antonio, Texas with a major in accounting.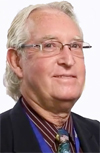 I bring a different background to the investment community.  After graduating in 1967 I went directly to work for the Internal Revenue Service. I was an IRS Agent, Team Coordinator (lead agent), heading up the audits on the largest corporations in the world.  In 1996 and after 29 years with the Fed's, I applied for an early retirement. Looking back most memories, either good or bad, have faded with the years. I have maintained no interest or contacts with my previous employer and frankly, like you, I have little, to no, use for the IRS.
Over dinner with Martin Weiss years ago, after I had started this service, he advised me not to shy about from my background, it is part of who I am and gave me the skills to go on to other ventures. So, I have followed his advise.
I know that some individuals may not be excited about my background with the Fed's, but what should be important now is that I come from a 'numbers' background, giving me the skills to put together this service and you the opportunity to become knowledgeable about warrants and other investment opportunities.
I also maintained a real estate brokers license in the State of Texas for 18 years until relocating to Ajijic, Mexico in 1999.
Perhaps most important is my 40 years or so of accumulated knowledge and experience in trading stocks, options, leaps, futures, options on futures and of course, warrants.
In March 2005, I founded and launched this new investment Market Data Service, Precious Metals Warrants, which provides the detail on all mining and energy company Warrants trading on the U.S. and Canadian Exchanges. As an investor myself, in October 2004, I could not find this information and thus proceeded to accumulate the sources of the information and then to build the website into a user-friendly place to get the details on all warrants trading on the mining and energy companies.
In July 2013, I expanded the services to include all stock warrants trading in the United States and Canada and in all investment sectors and I changed our name to Common Stock Warrants to reflect better our new vision.
While, San Antonio, TX will always be home in my heart , "home-base" for Common Stock Warrants is now Ajijic, Mexico, just outside of Guadalajara on Lake Chapala in the state of Jalisco. This has been my full time, home-base since 1999.
Living outside the United States gives one a better perspective of the world situation, the U.S. Dollar and investing.
---