Paul Craig Roberts, former Assistant Secretary of the US Treasury in the Reagan Administration and former Associate Editor of the Wall Street Journal, has held numerous university appointments. His latest book is The Failure of Laissez-Faire Capitalism.
---
By Paul Craig Roberts
www.PaulCraigRoberts.org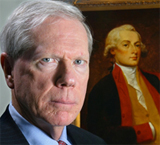 There are many signs of gangster state America. One is the collusion between federal authorities and banksters in a criminal conspiracy to rig the markets for gold and silver.
My explanation that the sudden appearance of an unprecedented 400 ton short sale of gold on the COMEX in April was a manipulation designed to protect the dollar from the Federal Reserve's quantitative easing policy has found acceptance among gold investors and hedge fund managers.
The sale was a naked short. The seller had no gold to sell. COMEX reported having gold only equal to about half of the short sale in its vaults, and not all of that was available for delivery. No one but the Federal Reserve could have placed such an order, and the order came from one of the Fed's bullion banks, one of the entities "too big to fail."
Bill Kaye of the Greater Asian Hedge Fund in Hong Kong and Dave Kranzler of Golden Returns Capital have filled in the details of how the manipulation worked. Being sophisticated investors of many years of experience, both Kaye and Kranzler understand that the financial press runs with the authorized story planted to serve the agenda that has been put into play.
See also "The Assault on Gold" by Paul Craig Roberts.