July 12, 2019
By Dudley Pierce Baker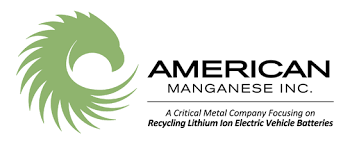 American Manganese, AMY on the TSXV and AMYZF on the OTC, in my opinion, represents an interesting speculation for investors.
The company is the leader with worldwide patents for recycling lithium-ion batteries.
All of those electric car batteries, phone batteries, etc. will have to be recycled and I see AMY as having the leading technology in the industry to make this happen, not 5 years from now, not next year, but NOW.
AMY just reported on July 11th:
In my opinion, investors seem to be overlooking this opportunity as the shares continue to trade on the TSXV Exchange (AMY) for C$0.145 and AMYZF at $0.118 in the U.S.
In full disclosure I am a shareholder of AMY and I like the story. Could I be wrong, it is possible, but I do not think so. Please do your own due diligence before buying any shares, it is your money so take responsibility for your investment decisions.
This could possibly be the most overlooked opportunity of the decade.
Visit the company's website for complete details.
Making Lithium-ion Last Forever™