By Cecilia Jamasmie
MINING.com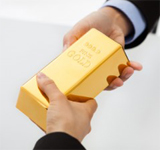 In the wake of widespread reports pointing at central banks rushing to restock their coffers ever since the German government submitted gold demands to London and New York bankers, Latin American countries seem to also be catching the gold bug.
Mexico leads the way, buying close to 100 tonnes in a couple of months last year. Now Brazil has increased its gold reserves for the second straight month, reaching the highest level in 11 years, as data from the International Monetary Fund shows.
Brazil, home Latin America's largest economy, seems to have much further to go, as gold still accounts for a mere 0.8% of its reserves.