By Alisha Hiyate
MiningMarkets.ca 
After surviving a moribund market, junior miners can look forward to a less stressful 2013, says John Gravelle, mining leader for the Americas at PwC.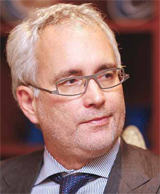 "I think we've seen the worst of things in the markets," Gravelle said during an interview in late November. "It's been a rough ride, but I think better times are ahead."
PwC catalogued what has been a bleak year for juniors in its Junior Mine 2012 report, released in November. The consulting firm found equity financings by the top 100 juniors down by 41% to $1.6 billion this year, from $2.7 billion in 2011. The market capitalization of the same group fell by 43%.
But as 2012 comes to a close, Gravelle sees some encouraging signs.
Read the full Mining Markets article . . .
See also:
Where have all the cowboys gone?