By Paul Craig Roberts
Former Assistant Secretary of the US Treasury in the Reagan Administration and former Associate Editor of the Wall Street Journal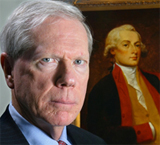 For Americans, financial and economic Armageddon might be close at hand. The evidence for this conclusion is the concerted effort by the Federal Reserve and its dependent financial institutions to scare people away from gold and silver by driving down their prices.
When gold prices hit $1,917.50 an ounce on August 23, 2011, a gain of more than $500 an ounce in less than 8 months, capping a rise over a decade from $272 at the end of December 2000, the Federal Reserve panicked. With the US dollar losing value so rapidly compared to the world standard for money, the Federal Reserve's policy of printing $1 trillion annually in order to support the impaired balance sheets of banks and to finance the federal deficit was placed in danger. Who could believe the dollar's exchange rate in relation to other currencies when the dollar was collapsing in value in relation to gold and silver.
The Federal Reserve realized that its massive purchase of bonds in order to keep their prices high (and thus interest rates low) was threatened by the dollar's rapid loss of value in terms of gold and silver. The Federal Reserve was concerned that large holders of US dollars, such as the central banks of China and Japan and the OPEC sovereign investment funds, might join the flight of individual investors away from the US dollar, thus ending in the fall of the dollar's foreign exchange value and thus collapse in US bond and stock prices.