By David Trilling
EuroasiaNet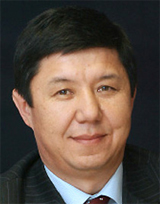 A state commission in Kyrgyzstan has used claims of environmental damage at the country's largest, most lucrative gold mine, Kumtor, to argue for a new agreement with the company operating the mine, Toronto-based Centerra Gold, and to fine Centerra almost half a billion dollars.
Economics Minister Temir Sariev, who headed the commission, says he has evidence, including two reports by European scientists, that the mine is inflicting "colossal damage" on the environment.
But, until now, hardly anyone in Kyrgyzstan has seen those scientists' supposedly damning reports.
In December and February the commission, acting, respectively, through two state agencies — the State Inspectorate for Environmental and Technical Safety (SIETS) and the State Agency for Environmental Protection and Forestry (SAEPF) — fined Centerra approximately $467 million for alleged environmental damages, waste disposal and water treatment violations dating back to 1996. Centerra calls the claims "exaggerated or without merit."