By Cecilia Jamasmie
MINING.com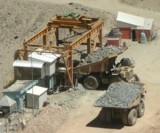 Canadian Kinross Gold Corporation plans to suspend operations at its La Coipa gold and silver mine in northern Chile in the second half of 2013, and has announced a "partial suspension," to its workforce reports local newspaper El Nortero (in Spanish).
According to unionized employees at Compañía Minera Mantos de Oro, Kinross's subsidiary in Chile, the firm had announced the closure would happen later this year, but last week's meeting surprised quite a few. Now workers are calling for a general assembly to be held Tuesday and Wednesday this week, where they'll decide what to do about Kinross notification.
However,  the mining company's communications officer, Steve Mitchell, told MINING.com this is not the first time the union has heard of the company's plans. And that, in fact, Kinross announced this decision when releasing its Q4 results in 2012.