By Michelle Smith
Gold Investing News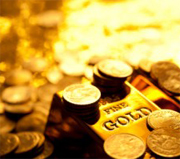 The TSX Venture 50 is compiled by TMX Group and consists of companies that TMX believes have an impressive track record. The companies on the list generally produce high returns and are highly liquid. The 2012 TSX Venture 50 includes companies whose average return in 2011 was 82 percent. The list is divided into five sections, one of which is mining. Gold Investing News decided to take a look at the top three gold mining companies to see why they made it and how they are holding up.
TMX's assessment began with numerous filters that reduced over 2,000 possible stocks to 535. This group of companies was further reduced to the TSX Venture 50 using a formula that took four equally-weighted criteria into account: share price, trading volume, market capitalization and analyst coverage.
Roxgold (TSXV:ROG) is developing three mining concessions in Burkina Faso. It holds a 90-percent interest in one of the properties and 100-percent interest in the other two properties, including its flagship project, Yaramoko, for which the company recently announced high-grade drill results.